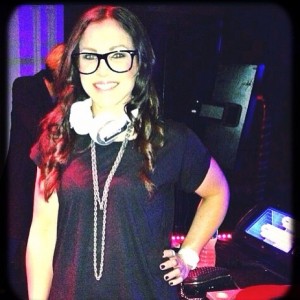 EMC caught up with rising star DJ Kristin Lush for an unplugged interview:
Where do you live currently?
Currently, in Manhattan, Down Town.
Where did you live previously?
I moved here a year and a half ago from Los Angeles, where I grow up.
Back in 1996 a two of my best friends and I ran into some older kids at Disney Land. They told us "you guys look like really cool groovers" We had no idea what that meant, but they were making reference to our overalls, bright colored clothing and I think my friend has a Tide box made into a back pack, or something similar Ha so classic.  Not even sure where we got the ideas to dress like this. Next weekend we met these kids again for them to pick us up. We hadnever heard electronic music as we were in a pretty sheltered area near Laguna Beach, CA and we had no idea what was in store. They took us to a party called Techno State. It was at that party that I first saw a DJ, and from that day on I was obsessed with music and learning how to be that person.
Where did the name come from?
My original name from the age of 16-21ish was DJ Cyanide… I used to play hardcore techno and gabber, so the name was fitting. By about 2002, I finally gave in to the persuasions of a couple very close older friends who I would call real OG LA "House Gangsters" who talked me into checking out the house music scene. I fell in love and ironically I feel my style in music matured as I did. With the new scene and genre of music a new name was needed and one of these close friends, Dez, gave me the name. He would always say I was a lush, and luscious. Now, as I have grown and matured into producing and to another level in my career, I decided to go by Kristin Lush, which just seems more fitting at this point.
Tell us about your current DJ/Production setup? What Hardware/Software do you use?
Well I love toys and I love to explore new techniques and to be able to use and understand all different methods available. My home DJ set up contains 2 set ups, which I switch off between to practice different skills . It contains 2 Techniques M5Gs with a Rane TTM68 mixer, And then I have my pioneer set-up with 2 Pioneer CDJ200s and a DJM 900mixer, a Serato box with a Traktor X1 controller mapped to serato DJ for control of the new effects in Serato DJ.  My next purchase will be the pioneer RMX1000 and a third CDJ2000.  My production studio is much more simple. It contains a keyboard and my computer in which I use Logic Pro X mainly.
Who's throwing the best parties at the moment?
I don't want to single out any promoters… haha BUT, I'd say some of my favorite parties currently are being thrown at warehouses in Brooklyn. Underground and undisclosed locations, but top quality house music talent and production.
What's the best event you've played at/put on?
I would have to go back to the early 2000s when I had the honor to do a large portion of the promotion for B3 Candee, Insomniac, Go Ventures, and Guerilla Union. I ran my own street team of kids that would work for me for comps. I watched parties like How Sweet It Is and Nocturnal Wonderland grow into "massive" events and productions from the inside, and it was very rewarding. A land mark in my career was Djing at Electric Daisy Carnival on the House Music stage in 2004. This was my first massive size stage/ event booking where I was actually pictured on the flier with some of my idols, after Djing crowds of up to 5 thousand people from 1997 till then. Most recently I'd have to say I was very excited about doing the brand new Sankey's NYC NYE party this year. I moved here a year and a half ago from Los Angeles, where I grow up.
Out of all the tracks in your crate, which one never fails?
Well, I'd say Devotion by the Bingo Players and any Duke Dumont track. They are always my go and guarantee to get a crowd going. For my more underground vibe parties I'm really feeling the Croatia Squad tracks like Sundown and pretty much all the stuff coming out on Bunny Tiger.
What's your favorite track/record/album/mix set of all time?
Nervous Acid. It was a white label. I was obsessed with that song and Metro Area #4 for years. I eventually found copies of both, which I still have in my vinyl collection
When all the partying is over how do you like to chill out?
Staying home in sweat pants listening to new music and writing tracks.
Funniest thing that ever happened at an event?
Being that I started my career playing hardcore and gabber in the rave scene in Los Angeles, I have had to deal with all sorts of rigs and situations. The Hardcore room got shafted a lot, and quite often they would turn some weird small area like a bathroom into a room. I remember Djing in a bathroom like area at a theatre with a wall of speakers. All was good until I smelt burning… I was not maxing out the system at all, but the sound was too much for this one little amp. There was no sound guy in sight so in-between tracks I would fan the amp with a record sleeve to cool it off.  It worked though! Nothing caught on fire and the room kept jumping.
What advice would you give to up and coming DJs/MCs?
A lot of people have been here a long time doing things. Pay these people with respect and learn from them. Everyday get out there and hustle to get your name known and build up your army. People who love and relate to you will support you, listen to your music, buy tickets to your shows… these people are what make good artists into Legends . With confidence add humility and be able to back up any confidence with talent and skill. Show up to gigs sober and stay sober. Remember that all forms of music influence each other in some way or another. Stay open minded and pay respect to all different scenes and styles of music as they all have an integral effect or influence on each other in some fashion.